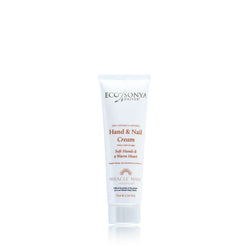 shopdrhowley
Eco Tan- Hand & Nail Cream
A beautiful certified organic hand & nail cream designed to replenish and retain moisture to your skin. Non-greasy, super absorbent & made using only the kindest organic and natural botanical active ingredients that are known to soothe, hydrate & help restore rough, dry and stressed skin.
Ingredients:
Organic Mango Butter is a natural source of Vitamin A and reduces fine lines & wrinkles for a glowing and youthful look. It soothes the skin and moisturizes without being greasy.
Organic Sea Buckthorn is also a great source of vitamins and minerals for your skin, while being packed with antioxidants & fatty acids. It helps to minimize loss & restores rough and stressed skin to become smooth and supple.
Sunflower Seed Oil is a great source of  Vitamin E and is rich in nutrients & antioxidants. It shows effectiveness against acne, inflammation, general redness & irritation of the skin.
Organic Aloe Vera Juice – a superb multi-functional active that is rich in Polysaccharides, which help to retain moisture and soothe the skin.