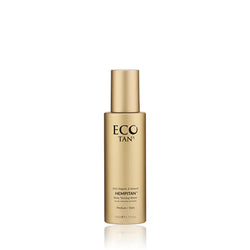 shopdrhowley
Eco Tan- Hempitan
HEMPITAN™ is  the World's first organic hemp body tanning water that delivers the longest lasting tan and contains Hemp Seed Extract known for it's phenomenal skin moisturizing properties. This is the darkest instant tan in Eco Tan's organic tanning range.
A revolutionary certified organic self tanning water, Hempitan™ is made from only organic and natural ingredients in an easy to apply spray on formula.
​Organic Hemp Seed Extract is known to help relieve skin irritation & provide moisture. Cacao helps to soothe, hydrate & balance skin complexion. Pure Hyaluronic naturally boosts the moisture in your skin.
This express tan is non-comedogenic, so it won't clog your pores

Hempitan Tanning water provides long-lasting colour

Unlike other instant tans, with natural cacao & orange oil, Hempitan smells amazing!

Your longest lasting natural fake tan, with spray on convenience!

Colour continues to develop for 24 hours.
With natural cacao & orange oil, Hempitan smells amazing!
Dries instantly!

 No mess. 

The more you apply, the darker you get!