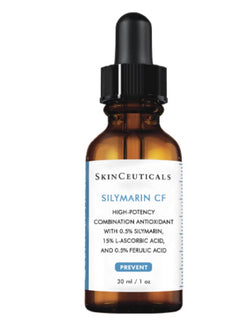 SkinCeuticals- Silymarin CF

This breakthrough vitamin C serum for oily and blemish-prone skin combines 0.5% silymarin, or milk thistle extract, 15% L-ascorbic acid and 0.5% salicylic acid to help prevent oil oxidation that can lead to breakouts and visible signs of aging. Oil-free and clinically tested, this oil-reducing vitamin C serum improves skin texture, skin clarity and fine lines while minimizing the look of pores and other visible aging signs.
Key Features:
Reduces oil oxidation by up to 76%
Improves and balances skin's oil production
Neutralizes free radicals and gently exfoliates
Provides advanced antioxidant protection from environmental aggressors
Improves the appearance of fine lines, skin clarity and uneven skin tone
Key Ingredients:
15% L-ascorbic Acid: This highly potent form of pure vitamin C helps neutralize free radicals and protect against oxidative stress while providing visible anti-aging benefits.
0.5% Silymarin: Powerful plant-based antioxidant derived from milk thistle that helps prevent oil oxidation and provides antioxidant protection against free radicals.
0.5% Ferulic Acid: A plant-based antioxidant, ferulic acid neutralizes free radicals and enhances the antioxidant benefits and stability of vitamin C.
0.5% Salicylic Acid: A beta-hydroxy acid provides effective exfoliation, refines pores, and helps reduce the formation of blemishes.
*In a clinical study, the Silymarin CF was shown to:
Reduce oil oxidation by up to 76%
Reduce skin oiliness by up to 16% in just one week